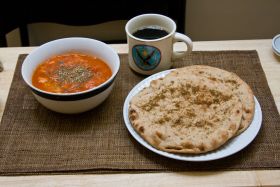 Even though Pedasi is a small town, they do have very, very good restaurants because of the tourism and because of the expats that live there. Here's a sample:
Smiley's is a popular restaurant in Pedasi that serves American food.
There are also several Italian restaurants in Pedasi that are owned by Italians.

There is also a place in Pedasi that sells organic food where they plant the produce and all the ingredients that they use in their food.

We have

Bienvenidush

, which is a restaurant owned by an Israeli lady that has Israeli dishes and where you can enjoy a nice falafel. What I tried is the

shakshuka

(pictured), which is a breakfast dish made of egg, vegetables, tomatoes, etc. It's very nice as well.

There is also place called

Pedasito

, which is a boutique hotel that also has a restaurant and their chef is really good. They have lots of different dishes.

We also have the typical foods of Pedasi, which are served in the little restaurants owned by the locals and where you can try the national foods as well.
We have all kinds of food in Pedasi because there is a lot of foreign people living here.
Posted March 23, 2015