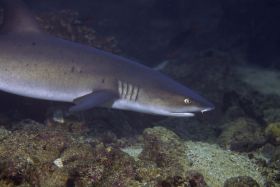 You can scuba dive around Isla Iguana, which is about 20 minutes by boat from Pedasi. Isla Iguana is in the Pacific, so the visibility isn't always that great. You can see stingrays and lots of colorful fish like parrotfish. There isn't a lot of coral. You could see turtles and crabs. It is nice to scuba dive around Isla Iguana, but I think there are better places in Panama.
You can also snorkel in Isla Iguana because it is quite shallow, so you do not have to go very far. Because it is shallow, you can clearly see fish and turtles. It's a very nice experience. You do not have to a professional and experienced
snorkeler
. If you're with
Pedasi
Tours at Isla Iguana, they will give you snorkels and fins as part of the package. You can go on your own. You do not have to have a guide or instructor.
Personally, I think that one of the best places to scuba dive in the world is Coiba National Park, which is about four hours away from Pedasi. To get there from Pedasi, you drive to Santa Catalina, and then, you take a boat for about an hour to Coiba Island. There are around 20 dive sites and all of these sites ensure that you see sharks all year round.
The most popular shark there is the white tip reef shark (pictured above). There are also lots of big fish, barracudas, manta rays, stingrays, eels and schools of fish. It's pretty impressive.
Posted March 01, 2015