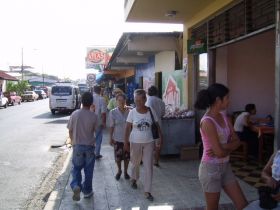 The people in Pedasi, both men and women, wear shorts, t-shirts and flip flops, sandals, or tennis shoes. Locals commonly wear jeans. People dress this way anywhere, except when going to the church or to the bank or to the hospital. Then we dress up a little bit.
If we are going to church or to the bank, we usually wear skirts or jeans so we don't show off too much. The government offices here in Pedasi are not too strict, but if you go to Las Tablas (pictured), they won't allow you into a government building if you are in shorts or flip flops.
People dress up a bit more when going to parties. I would wear jeans, a nice blouse and make-up. If you are an expat and a local invites you for dinner at their house, it is better if you would not wear shorts or at least wear khakis or cargo shorts and a nice v-neck shirt. That way it is still casual but a bit dressed up.
People usually dress up if there is an occasion, except for expats. Expats in Pedasi always wear t-shirts, shorts, and flip flops. They never change.
Posted December 08, 2014