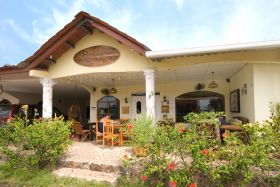 The standard of living in Pedasi can be pretty varied. You can live inexpensively, if you eat at local restaurants and rent a house. It is the exact opposite if you have a million dollar house on the beach and eat at the more "expensive" restaurants. Still, it is cheaper than living in the United States, Canada, Europe and even Costa Rica.
It's pretty calm when you live in Pedasi. As we say here, it is
tranquilo
. Pedasi is a nice, cute, beautiful town with several beaches. Expats and Panamanians are into sports, running, and biking. There's a very big sense of community that I enjoy. Everybody knows one another. People are really nice. People say "hello" and "how are you?" on the street and are very welcoming. A lot of people work in construction and real estate. Some have small businesses as well.
There are people of all ages in Pedasi. Retirees lead very calm lives. The standard day for retirees could go like this: They get up in the morning, walk their dogs to the beach, go to the bakery and have a nice cup of coffee and croissant, and just go about their day and their hobbies. Many go to restaurants and festivals.
In addition to retirees in Pedasi, there are also younger people (like me) who work full time.

The weather in Pedasi is also good all year round. Even when it's raining, it is not as bad as the other areas in Panama. So it's always warm, around 77 degrees Fahrenheit on average all year.
Posted March 01, 2015