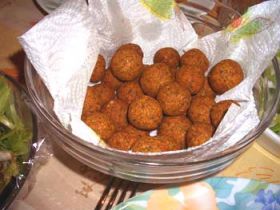 The cost of restaurants in Pedasi depends. You have lots of restaurants here for such a small town. The last time I checked there were 22 restaurants, and we only have three avenues and ten streets. You can have a lunch or dinner starting from US $5 to $30 per person.
On Tuesdays, I go to this place called Smiley's and I spend $25 every time for Tuesday dinner. I get a full rack of ribs, rice and vegetables, a coca cola and a slice of lemon pie. Nevertheless, on a regular day, you can find places that serve lunch and dinner between $5 to $10.
For example, there is a restaurant called Pedasito where you can get the meal of the day for about $5 to $7. The meal of the day is something that the chef cooks for that day with big portions. You get rice, chicken, beans, usually fried bananas, and a drink, which is a choice between a juice and a pop soda.
There are also other restaurants in Pedasi. For example, across the street from Pedasito, there is a new place that serves Mediterranean food. They have hummus and falafel (pictured). You can have a plate of hummus with pita bread that is fulfilling. It comes with an egg and salad and costs between $6 to $6.50.
Posted January 19, 2015