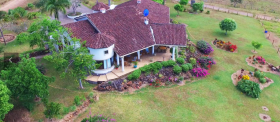 Construction standards in Volcán are what I'm impressed with. When you buy a home in Volcán that's 25 - 30 years old these days, you'll be less impressed with those than the homes that are built today. The reason is that the quality of construction 25-30 years ago has improved drastically here in Volcán.
The construction in Volcán has become more Americanized, and the material that they use to construct with here in Volcán are different. In Central Kentucky in the United States, you would see homes built with the traditional stick-frames and a lot of homes that have hardwood or carpeting as finishings. Here in Volcán, on the other hand, you don't see either of those often
Most of the homes here in Volcán are constructed in concrete or steel frame that are then covered in concrete instead of hardwood flooring or carpeting. You'll most likely find either concrete or tiled floors and very nice floor finishings here in Volcán. You can choose from terracotta, marble, and different assorted styles of tile. There are many different ways to finish your flooring here in Volcán, but they're completely different than my experience in Central Kentucky.
The quality of construction in Volcán is great. While they use materials that you may not have used in your lifetime in the United States or in Europe, the artisans in Volcán are very good in constructing very nice quality homes with roofs that don't leak, using baker barriers so that you don't have moisture and mold problems inside your home, and doing some work with tile that you have not seen elsewhere, and I mean that in a good way. The artisans of Volcán do tremendous things with tile. They also make floating staircases made out of steel and concrete that I've never seen in the United States. It's just gorgeous work.
(Tiled-roof home in Boquete, near Volcan, Panama,pictured.)
Posted May 28, 2017