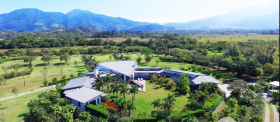 There's a dichotomy of price points of a home, condo or apartment in Volcán, and the determining factor is if you want to buy a Panamanian-style or an American-style home, both of which are available. You can buy Panamanian-style homes from the low-income housing style homes for under $100,000. There are not very many of those but they exist.
On the other hand, you can buy American-style homes in Volcán starting at $200,000. I have quite an impressive home listed for $1.88 million right now. In Miami for example, what's worth almost $2 million here will cost $15-$20 million.
A two-story 2,500 square foot American-style 4-bedroom and 3-bathroom home with a casita on a 1-acre lot would cost at least $269,000. That's a fairly normal price for an American-style home.
(Estate in Volcan, Panama, pictured.)
Posted May 20, 2017