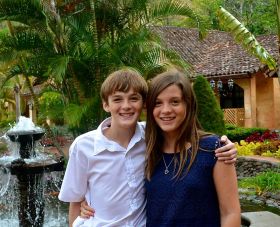 The weather in Volcán is the main reason people move here. Volcán is just a hidden gem in Panama, and people simply haven't discovered it yet in large numbers, but the weather here in Volcán is spectacular.
The temperature in Volcán is 75-77 Fahrenheit every day of the year, whether it's rainy or dry season. At night, it can get to 46-55 Fahrenheit. In Volcán, we have crisp, cold mornings and evenings, and it warms up fast. For example, at 7 o'clock this morning, it was approximately 60 Fahrenheit, and right now, at 9 AM, it's already over 70 Fahrenheit on its way to 75-77. The weather in Volcán is just absolutely gorgeous, and the wildlife is amazing. I've never seen so many different colors in the birds here. It's just gorgeous.
We get less rain here in the Volcán microclimate than they do in other places in the Highlands and in the province of Chiriquí. At 4,600 - 4,800 feet in altitude, Volcán is a little bit higher than Boquete, which stands at 3,800 feet altitude. Volcán is just a little bit cooler and more arid than Boquete, with a little less rainfall.
You can drive down 20 minutes from Volcán and experience more rainfall than almost any place I've ever been in my life. The microclimates are a true experience here in Panama. You can travel 15-20 minutes to any direction and get to a different climate. Volcán just happens to have our perfect idea of a climate.
(Gilbert children in the eternal spring of the Chiriqui highlands, Panama, pictured.)
Posted April 12, 2017