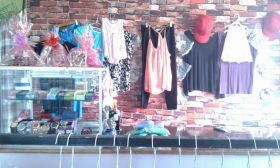 You can buy good clothes in Volcán. In fact, Volcán is a destination point for people wanting to buy American-style clothing in Chiriquí. There are many "Ropa Americanas" that bring in outlet-style clothes with brands like Tommy Hilfiger, Polo, Levi's, Wrangler's, and other American-style clothes.
Ropa Americanas are where we've purchased blue jeans for $5, name-brand shirts for $6 or $7, and routinely find name brand children's clothes like Gymboree for under $5.
A lot of people come up here and shop weekly in Volcán for these kinds of clothes. The shipments of Ropa Americanas tend to come in weekly, so it's a situation where the quantity of clothes is small, so they tend to get picked through, but they get replenished often.
The shoppers who like to shop for American-style clothes that are brought here in Volcán look at the inventory of the stores once every couple of weeks. There are about ten Ropa Americanas within a 6-mile radius here in Volcán, and consumers just go from shop to shop checking them out to see what these stores have in stock.
(Store display at Ropa Americana La Cosecha, Volcan, Panama, pictured.)
Posted March 24, 2017