Volcán, Cerro Punta , Boquete and David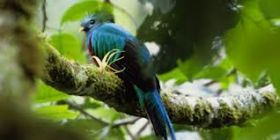 are towns located in the province of Chiriquí, and very attractive to visitors, as they have so much to offer, including the magnificent "Feria de las Flores" (Flowers festival) in January.
The area has many charming hotels and cabins, and you can also visit the Baru Volcano. It has an exceptional nature area called "International Park of the Friendship", which is known worldwide. Created in 1986 and 420,000 acres large, it has many times hosted several competitions. This park is considered the first Binational Biosphere Reserve in the world, because it is situated between Panamá and Costa Rica, at 6,600 feet above sea level.
This area has two of the largest rivers by volume, the "Teribe" and "Changuinola" which are great for water rafting and fishing. It also includes the largest area of natural forest in Central América.
Unfortunately, the area does not have any surfing because it has no beaches. However, if you want to surf in Panama, there are many great places. You can visit Gorgona, Coronado, Bocas del Toro and Santa Catalina (in Veraguas) , maybe Pedasí, for great surfing.
In terms of biodiversity, the area contains 180 endemic plants and one of the last refuges for threatened animals like jaguar and cougars (among others)., as well as over 600 species of birds, including the Quetzal, and 115 species on fishes. At least nine of the Holdridge zones of Panamá are in this area, as well as a diversity of species of plants, maybe unequaled in the world by any other natural reserved of the same size, due to the convergence of the North and South America flora, variety of weather, altitude and other factors.
When you visit this place, must be in excellent health as the altitude could affect you, and visiting includes walking in the mountains and by the rivers.
Posted November 14, 2013