If you are into bird watching and enjoy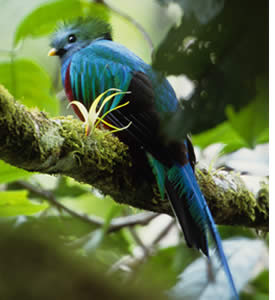 the jungle, Sendero Los Quetzales is a great thing to experience. Quetzales is a hiking trail that goes from Cerro Punta to Boquete, within the north side of Volcan Baru National Park.
The trail is 9.6 km (6 miles) and can take on average four to seven hours to do, depending on your physical condition and the land conditions (you will go slower if it is slippery after a rain).
There is a considerable change in altitude along the trail because the Boquete side is at 1,800 meters (5,900 feet) above sea level, the highest point in the trail is at 2,500 meters (8,200 feet) above sea level and the Cerro Punta side is at 1,981 meters (6,500 feet) above sea level. This also affects the temperature, which fluctuates from 16-17° C to 10° C (50
° F
- 60
°
F).
The trail is named after the Quetzal (in the picture above), the national bird of Guatemala, but that can also be found in high altitudes in cloud forests all over Central America. This is one of the most difficult birds in the world to spot, but if you are lucky, you will get a chance to spot one. You will have more chances to see this and other exotic animals if you go with a guide.
Please be prepared; there are no water or food stops along the way
Posted January 23, 2014