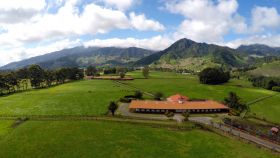 I've never hiked or camped here in my experience in Panama, but people do camp here in Volcán. Hiking is huge in Volcán. We have hiking trails in Volcán that go up to the Cerro Punta, which is a neighboring community to Volcán and where most of the produce is grown. We also have hiking trails up the volcano to Baru through Tisingal out to the two lakes here in Volcán which is uncommon for our province, Chiriquí, out toward the Costa Rican frontier and the national park that's here.
There is a great hike from between Cerro Punta and Boquete. The trailhead starts approximately 20 minutes from Volcán. That's an entire day of rigorous hiking. A lot of people will hike over this area from Boquete, and catch a bus back the next day over to Boquete.
My family and I don't go camping, and the reason for that is we live in the Highlands. Volcán is in the Chiriquí Highlands known as Tierra Altas, which literally translates to "highlands." In Volcán, the temperature is 75 Fahrenheit every day. If I want to go somewhere different for hiking and camping, then I would to go to the beach where the temperature is 100 Fahrenheit. I personally don't want to go camping if the temperature is 100 Fahrenheit during the day and 85 Fahrenheit at night.
(Arial photograph of a horse farm in Cerra Punta, Panama, pictured.)
Posted February 25, 2017