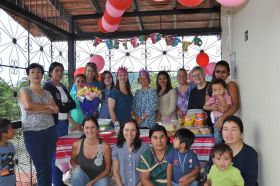 Spanish is the most often spoken language here in Volcán. Some people who have been here in Volcán a long time would say that Panamanian is the language spoken in Volcán, but it's certainly Spanish. There are other pockets of places that expats locate in Panama that speak more English than they do in Volcán. I love being in a community that is truly Panamanian and is truly a different culture than my own. I don't have a great command of Spanish, and that allows me to see more with my eyes than hear with my ears.
I noticed that I observe more because I don't understand all of the words. I appreciate watching two people converse in Spanish. I might not understand all that's going on, but I'm seeing so much more of the way the two people are acting and reacting to each other than I ever did when I'm speaking with someone in English.
I would not discourage someone who doesn't speak Spanish from coming to Volcán. I don't speak Spanish, but I love living here in Volcán. I've been here in Volcán for quite a while so I am slowly learning Spanish and I am just fine at this point ordering food, going to the doctor's office, or getting gas with my Spanish, although I have a hard time asking directions if I don't already know the area.
There are technological advancements that help me compensate for not speaking Spanish well. For example, Waze is a great application for your phone where you can put in wherever you want to go and it will get you there just like Google Maps. I have not found not having a perfect command of Spanish to be a hindrance or a barrier to enjoying and living my life. In fact, I find it more exhilarating.
(Birthday party at the Gilbert's, Volcan, Panama, pictured.)
Posted March 09, 2017