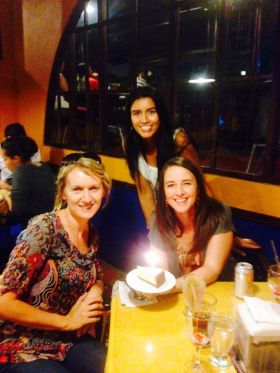 The economy seems to be very good in Boquete. One of the things about Boquete is it is a tourist-driven community, so it's more transient than some other places that I could tell you. Oftentimes, you'll see restaurants come and go in Boquete whether because the people are changing the motif of their own restaurant, or because they sold their restaurant.
Boquete feels touristy because there are always people coming and going in Boquete. It also feels exciting because a lot of the tourists in Boquete are younger. It's always exciting because we're always meeting new people, and it also drives Boquete's service-oriented economy.
Boquete is full of restaurants and Panamanian souvenirs. What I appreciate about Boquete are the different international things that you see. We go into an Italian restaurant and it's not just an Italian restaurant that's run by your buddy whom you grew up with in Kentucky. The Italian restaurant's cook is someone who has relocated here from Italy, and offers authentic style Italian food. It's the same for German food, Chinese food, and of course, Panamanian food here in Boquete. The Mexican food here in Boquete is true Mexican food, and I really, really appreciate that.
A lot of stuff that we would appreciate is American- your burger and fries, your sandwich shops, all of which are American style and are just very good and very affordable.
Here's the thing about the economy. If you were to sit down today and talk to a Panamanian, they would tell you that the economy is suffering. That is not the truth. The truth is from 2010 – 2015 Panama has enjoyed an average growth rate in their gross domestic product of 7.8%. In 2016, Panama enjoyed a gross domestic product of a little shy of 5%, which was 4.8% for the year, and which is two and a half times greater than the United States, and 2 and a half times greater than the European Union, both of which were at 1.9% in 2016.
So the Panamanian economy is coming along quite nicely, and Boquete is a huge beneficiary of that because there's been so much infrastructure expansion in Boquete. Over the last 18 months, we've had a 4-lane, American-style road that was built from the beach to Boquete.
There has been so much growth in Boquete that the government is now putting in a form of sewer system. The water system, the potable water is excellent in Boquete, and has been improved n over the last 18 months. The government officials in Boquete realize the expansion that they're being blessed with, and they're growing along with it so that the services don't suffer later.
(Megan Gilbert celebrating with her friends, Boquete, Panama, pictured.)
Posted April 19, 2017