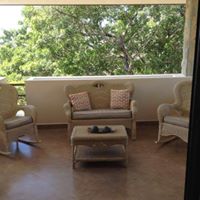 The cost to rent a home in Boquete varies widely, from $500 a month to as much as $5,000 a month. That's because the quality and size of properties that are available to rent are vastly varied. You can get Panamanian-style homes with a couple of bedrooms, a bath, a living room and a small yard for $500 a month, or you can get American-style houses anywhere from $900 - $1,500 a month. You can also get luxury villa-style mansions for as much as $5,000 a month, complete with land that you can use to grow plants, vegetables, or run a small business. The types of properties that are available for rent vary greatly.
I had a house for rent that was on two and a half acres of land full of fruit trees. This was a Panamanian-style home but larger, with four bedrooms. Inside the house, it looked very American. It had a huge outside with a patio that would be perfect for a billiard table or, as they've had it set up, darts. You could go outside and pick oranges all day long, and have freshly-squeezed orange juice every morning of your life in Boquete. This house cost $1,000 a month.
I just rented a 2-bedroom, 2-bath condo in the Boquete Country Club that has 24/7 security, a gated community, a code entry front door, and elevator-style living for $900 a month. The condo also has four private terraces and is fully furnished.
(Terrace in a condo in Boquete Country Club, Boquete, Panama, pictured.)
Posted April 04, 2017