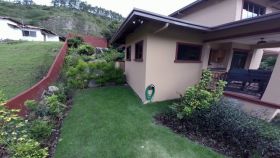 The Construction Cost per Square Foot range is based on the materials quality used in the construction of the residential project.
The North American Standard is anywhere between $70 -$90/square foot depending on the quality of construction and upgrades you are seeking (take your time choosing a floor plan).
Interior finishes can make the cost vary quite a bit. You may be able to save a considerable sum by going for alternatives that gives you the look and attributes you're after.
(House and backyard in Boquete, Panama, pictured.)
Posted March 21, 2016