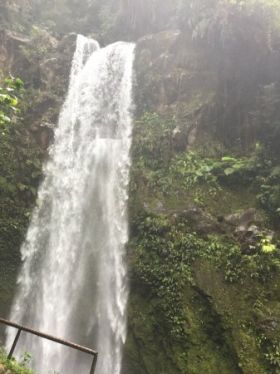 Greetings expat community.
There are many rivers and brooks in Boquete which makes up part of the natural landscape. The widest and longest river is Caldera River which goes through the east side of Boquete Downtown. It is very notorious because its in front of Boquete Flower and Coffee Fair which opens at a specific time of the year. That is the river that appears in all downtown Boquete's pictures.
Besides that there are small brooks downtown but nothing as big as Caldera River.
If you are a hiking lover you will love the following fact. There are numerous rivers and waterfalls close to Boquete that go from small to big and in some cases
HUGE
waterfalls. There are even hiking trails just to go and check waterfalls such as The Three Lost Waterfalls.
Besides what I've already mentioned there is just one artificial lake close to Boquete which is created by a local dam which is 5 to 15 minutes away from downtown Boquete.
I hope that you enjoy the nature because you are going to be in the middle of it.

Have a good day.
Rommel H. Troetsch
Posted January 22, 2018