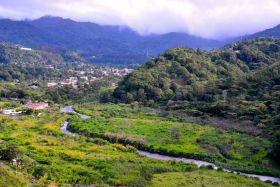 The main river in Boquete is Rio Caldera. There is a cafeteria in Alto Boquete where there is a good overlooking view of Rio Caldera and is a must visit in Boquete. You can pass by the river in downtown Boquete by crossing a bridge when heading towards the fair.
There are natural hot springs in Caldera, Boquete.
In Jaramillo, Boquete, there is a man-made lake that is also a water reservoir with a "presa" (dam). This is a beautiful place to visit.
On the way to Bajo Mono, there is a small waterfall next to the road. The Hidden or Lost Waterfalls is after Bajo Mono and is the most popular in Boquete. There are a few more waterfalls in the mountains, but are more difficult to reach and a guide is needed when hiking.
(View of Rio Caldera from Alto Boquete Condominios, Boquete, Panama, pictured. )
Posted August 24, 2017