I am a food lover and love to cook. How I have learned shop where I live in Chiriquí, Panama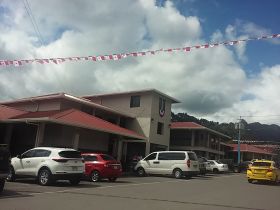 I have lived in the Boquete area of Panama for 13 years now so have learned how to shop for my food.
There are basically two kinds of markets here in Panama. The first are supermarkets which are just like those in the USA; large, modern and clean, with many imported foods as well as local products, fresh fruits and vegetables, meats and seafood.
The other markets are "mercados publicos" (public markets) which are sometimes open air (with roof) or enclosed. The mercados typically sell local fruits and vegetables at much lower prices than the supermarkets. There are large and small mercados; the larger ones will also have seafood and meats as well as the local fruits and vegetables. Typically the mercados are small stands. In fact, you see the mercados throughout Central and South America as well as Mexico.
In Boquete we have a brand new Mercado Publico which has it all; fruits, vegetables, seafood and meats. There are many small stands offering their products.
In the city of David, about half an hour from Boquete, we have several large supermarkets as well as Price Smart which is owned by Costco and the same as Costco in the USA. I go to different supermarkets for different products and you will learn what supermarket carries which products you like to consume.
For example, I buy all my chicken at Price Smart because it is less expensive (larger packages) and it is the Toledano Brand which is a large chicken grower that does not feed their chickens with hormones and antibiotics, and it tastes yummy. I take the larger packages and freeze them in smaller packages. I do this also for my ground meat and pork products. Most products are much less expensive at Price Smart and good quality.
I go to Super Baru (also in David) for imported products especially from the Middle East. Because the owners are of Greek heritage they carry products such as pita bread, hummus makings, pepperoncini peppers, pastas imported from Italy, etc. Super Baru has a good butcher counter of fresh meats as well as a large deli counter and fresh seafood.
In Boquete and Cerra Punta now there are many growers growing hydroponic lettuces and tomatoes that contain no pesticides that are being offered in many of the supermarkets all over the country and increasingly we are finding more options of organic produce in some supermarkets.
Also in Boquete we have what we call the Tuesday Market, which is like a Farmers Market where you can find organic fruits and vegetables (higher prices) as well as all kinds of products such as homemade sausages, cheeses, prepared meals as well as handicrafts. This market is kind of a social gathering and caters mostly to the expats, although many local Panamanians attend and shop here as well.
I go to Felipe Moto to stock up on my wines. They are a wine and liquor specialty store and also have a very nice selection of deli products as well as specialty imported products, i.e., crackers, chips, cookies, nuts, etc.
If you are tourist in Panama and spend some time in the city don't miss going to the fish market on the edge of Casco Viejo (the old city, in PanamaCity). It has several stands where you can eat fresh fish and seafood dishes. It's a great typical experience.
(Photo is of the new Mercado Publico in Boquete)
Posted November 09, 2017