Boquete is not like a city. Being ia small town of around 20,000 - 21,000 people it has a few more stores than some other small towns. However not a lot to choose from.
Tuesday Market is held every week in the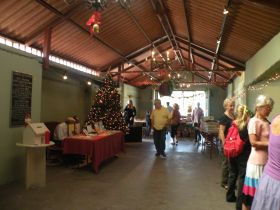 BCP area just across the bridge over the Calder River.
In this market you will see hand made arts and crafts; herbs and local oils or tonics for your health. There is usually a chiropractor doing his
treatments; hand made
jewelry
, wood and ceramic art and so much more. The photos show the
Tueday
Market in December 2012.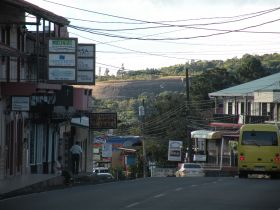 The downtown department store is a big surprise! La Renya is a well stocked mid-price range department store that stocks clothing and shoes for the family; home goods, some furniture, dishes, appliances, school supplies, a baby items, cosmetics, and so much more.
Smaller shops offer an eclectic mix of household items, assorted clothing and shoes, jewelry, some offer trinkets and tourist souvenirs. The photo below shows the twin bedspreads I purchased at Le Reyna ($28 each set); the vase came from a small shop up the street. Although Le Reyna has wall art, the large picture is from Conway ( a Target affiliated store) in David. The red sarong on the chair was $10 at tiny shop in Boquete. Still I enjoy shopping in Boquete.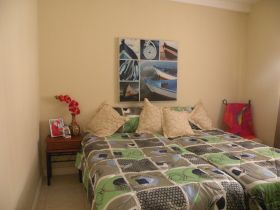 Posted May 31, 2013