Boquete is surrounded by beautiful mountains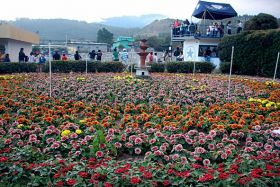 with dense forest and exotic trees and plants. It's year long spring-like weather allows the growth of all kinds of flowers as well. If you want to enjoy flowers and nature at its peak in Boquete, then you should definitely visit The Flowers and Coffee Fair which will take place in just a few weeks, from January 10th to 19th. In April from 11th to 20th then they will have the Orchids Expo.
if you miss out on these two events, there are other private gardens and parks which you can visit all year long. The pictures shows a sections of the Flowers Fair last year.
Posted December 30, 2013