My Favorite Event in Boquete: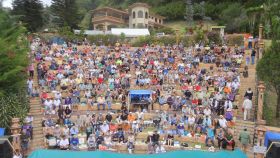 The Boquete Jazz and Blues Festival, A four day event you don't want to miss!
A short history of the The Boquete Jazz and Blues Festival (we call BJBF)
BJBF was started in 2007 as a jazz festival by a young Panamanian college professor, Antonio Singh. When Antonio moved from Panama City to David (the second largest city in Panama, located 30 minutes from Boquete) he had a dream to make a cultural event in the province of Chiriquí and spotlight Boquete. So he came up with the idea of a weekend jazz festival to be held in Boquete.
Antonio went to Anayansi Mendez, a prominent business woman of Boquete, with his ideas. Anayansi liked his ideas so she decided to help and support Antonio with creating a jazz festival for Boquete.
The two of them organized the event for once a year in February at the clubhouse of Valle Escondido (a gated residential community in Boquete). They contracted local musicians from David and Panama City and some international artists from Sweden, the Netherlands, Italy and Guatemala.
Over the five years they ran the festival they had attendances of up to 200. Their program expanded over the few years to offer two shows a night on the weekend at Valle Escondido and a Thursday show at the BCP (Boquete Community Players) theater and a free concert in the park on Sunday.
They never made any profits from their efforts but were fortunate that the ticket sales covered the costs.
In 2011 Antonio and the organizing group he worked with wanted to keep the festival going but no one was willing to take the risks of changing the format so that the festival could grow. At that time a German expat living in Boquete area, Hans Lebuser, took interest and after much discussion with Antonio and Anayansi, Hans took over the festival for 2012.
Hans had many new ideas that transformed this small festival into a world class international event. Hans is a retired commercial airline pilot and moved to Boquete to retire. He didn´t know what he was getting into when he started this new festival that it was a full time non-paying job. It was very stressful for him (and his wife) but worth the efforts because the festival has become a huge success and growing in attendance every year.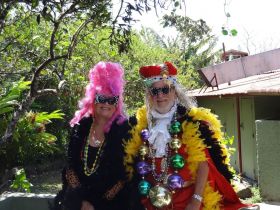 The first thing Hans did was to add the Blues to the festival which attracted more interest and tourism to Boquete. He realized that for it to be successful, he needed much more marketing, sponsors and exposure. So, he started a website and Facebook page which are still used today for the festival.
Hans negotiated with Valle Escondido to use their amphitheater, which has a capacity of up to approximately 700 people. It is a beautiful outdoor theater with a large covered stage. Valle Escondido was gracious and donated their theater and hotel rooms for visiting artists thus became a Gold Sponsor of the festival.
Hans' vision was to make a 4-day event kicking off the festival on Thursday with a New Orleans Style Street Parade through the town of Boquete that ended at the lovely historic Panamonte Hotel Gardens where a Garden Party was held in the afternoon with live Jazz acts. Friday there would be jam sessions in local restaurants and bars and a free concert in the park by visiting artists. Also, every night (Thursday through Sunday) there were jam sessions in the local bars and restaurants. Saturday and Sunday would be two full days of music at the amphitheater in Valle Escondido with each day featuring 4 jazz acts and 4 blues acts starting around noon and ending around six PM.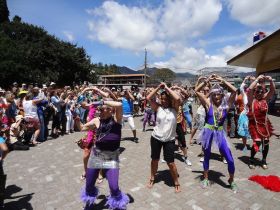 The 2012 festival was a huge success so Hans stayed on as lead organizer for the 2013 festival. Hans recruited many local volunteers to make this festival happen. The volunteers came from the expat community along with many Panamanians. Without the volunteers the festival would not happen. They helped with duties like hosting a green room for the artists, security, beverage sales, ticket sales, door entry, security, sound, festival merchandise sales, MC and much more. Thus the festival really became a community effort.
In conjunction with the festival Hans also started a Music in the Schools program. The festival would donate funds to local schools to subsidize their music programs. Also, visiting musicians would give workshops for local children interested in participating and donate musical instruments to them as well. For the 2014 festival the kids at one local school performed a Broadway Show, Grease, in their school with festival funds. They also performed a few numbers from Grease on the stage at the amphitheater in Valle Escondido. The audience loved it!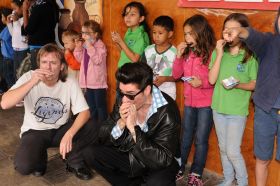 In 2014 Hans retired from the festival. He could not donate another year of his life. So, the buzz around town (Boquete) was who is going to take over the festival? This is where I come in; I loved what Hans did to the festival since 2012. I could not bear to see this great event disappear. So, I decided to take on the major organization of it along with Bob Applegate and Steve Bliss, two local expats. Bob had many years of experience working festivals and is a musician himself. He MC'd the festival in 2012 and 2013 and took over contracting all the artists and their transportation. I took over organizing all the volunteers and getting sponsors and Steve helped set up the festival venue and secured beverage sales. Hans stayed on part time by maintaining the website which he created. I really had no idea what I was doing but learned as I went along and 2014 was another success.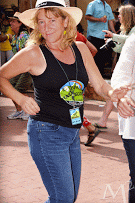 In 2015 Hans came back to the festival with the help of a Panamanian American, John Wolff. John had experience in the music and entertainment industry and so was a huge welcome for Hans. I decided to stay on one more year and helped them as I felt I had the experience and that helped alleviate some of the pressure off them. So I took over all the volunteers again and helped getting hotel rooms and meals donated for the visiting artists. I also helped get donations by local businesses for raffle prizes which generated badly needed income for the festival.
In 2016 and 2017 Hans and I retired and John Wolff took on the whole festival himself, bringing more internationally acclaimed artists and bigger acts. In 2017 the amphitheater reached near full capacity attendance and John saw a need to look for a larger venue to hold the festival.
So, folks, this leads us to a new year and festival coming; 2018. Every year the festival is held in February. This coming year 2018 it will be held from February 22 to February 25. John was able to negotiate with the city of Boquete and secured the fairgrounds as the new venue. The fairgrounds has a capacity to hold thousands of people and the hope for the future of the festival is to expand into an Arts Festival, including visual arts as well as the music (and perhaps other art forms in the future). The 2018 festival has already secured many internationally known painters that will be displaying their work at the 2018 festival.
Every year Boquete Fairgrounds holds a 4-day Flower Festival in January. So, the fairgrounds will be loaded with amazing colorful flowers in February when the Jazz and Blues Festival will be held. So, don't miss this event. It is going to be bigger and better every year. The 2018 line-up is loaded with some very famous Jazz and Blues artists. You can see the line up with videos and bios of each artist that will be performing at the 2018 festival as well as BUY YOUR TICKETS on the festival website.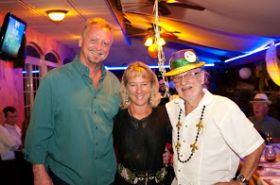 Photos from the top:
Valle Escondido Amphitheater
Hans and his wife Barbara dressed up for street parade
Flashmob dance during street parade in park Central Boquete
Bob Corritore and Andy Egert (musicians) teaching donating and harmonicas
Kjersten Van Horn dancing 2014 festival
Hans Lebuser, Kjersten Van Horn, John Wolff
Posted November 19, 2017