The Boquete Music and Arts Festival 2018 was a BIG HIT!
(Formerly the Boquete Jazz and Blues Festival)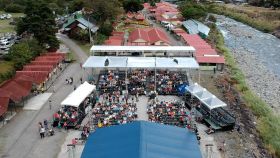 If you read my previous answer to this question posted November, 2017 you will read about the history of this GREAT EVENT. This article is a short update on the transformation the festival took in 2018.
Every year in February this festival is held in Boquete. It hosts lots of great music for 4 days and nights all over the town. In 2018 the current organizers moved the main venue from the amphitheater in Valle Escondido (a gated community in Boquete) which had a capacity of approximately 700 to the Boquete Fairgrounds which has a much larger capacity of up to several thousand spectators. The new venue offers much more space for vendors (food and merchandise) as well as freedom for spectators to roam the beautiful flower gardens along the Rio Caldera.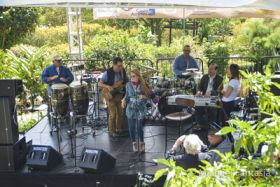 Another big change to the 2018 festival was the current organizers took advantage of the space the venue offers and invited several famous artists from all over the world to exhibit and sell their artwork. Thus, the new name, "The Boquete Music and Arts Festival". Perhaps in years to come even other art forms will be incorporated into this exciting event!
The Festival usually starts on Wednesday with some jam sessions at local pubs and restaurants. Thursday, a Garden Party at one of the beautiful hotel venues in the gardens with live jazz acts. Thursday night Jam Session at one of the local restaurants or bars. Friday 2018 added a night show at the new venue, the Boquete Fairgrounds, all day Saturday and Sunday at the fairgrounds loaded with music and plenty of space for dancing. And of course, Friday, Saturday and Sunday nights more jam sessions at local restaurants and pubs.
If you enjoy music, don't miss this event! The 2019 Festival will be coming next February and you can purchase tickets on line at the festival website. You can email me for the website address!
Photos
1. The Boquete Fairgrounds - Feria de Flores
2. Live Jazz at the Garden Party at Finca Lerida Hotel
Posted April 27, 2018