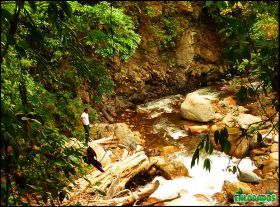 Some of the best expat activities in Boquete would involve being around nature, like hiking, birdwatching at night, and visiting spring waters.
There is also the Tuesday market in Boquete where expats and locals alike set up stalls and offer products and services like food, honey, coffee, and crafts. There are even Germans selling sausages and other German food. To get a stall space, you pay US $7 to $10. The Tuesday market is interesting because you see a mix of cultures.
My favorite nature activity is hiking. The last time I went hiking is to The Hidden Waterfalls (The Lost Waterfalls). The waterfalls are located in the mountains after Bajo Mono. The entrance to the Hidden or Lost Waterfalls is before Sendero Los Quetzales. You hike up a "colina" (hill) and there are three waterfalls. Visitors to the waterfalls can take a bath in the cold waters.
To get to the Hidden or Lost Waterfalls from downtown Boquete, it takes a 15-minute drive or taxi ride to the entrance. The trek up the hill and to the three waterfalls takes three hours to complete.
(Hiking around Boquete, Panama, pictured.)
Posted July 14, 2017