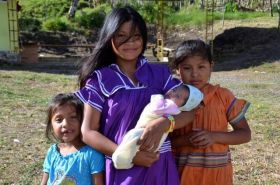 The town's name is derived from its history. Boquete is a valley hidden behind a mountain. A hole was created through the mountain to access the valley. "Boquete" in English means "a hole" or "an opening". The town was named after the "boquete" made through the mountain.
The first settlers of Boquete were Indians. Later on, other locals from Panama came to live in Boquete. Life was very simple and the land was for agriculture. Local markets were small and the produce was only what was needed during those times, like milk and vegetables. There were no schools.
There were no roads to Boquete then and you could get to the town by horseback. Years later, a "ferrocarrill" (railway) enabled people from the town of David to go to Boquete. After the railway and trains, roads were then built.
These pieces of information are from a history book entitled "Boquete" written by a local female author. This book has important historical facts, old pictures, and interviews of locals.
Panama has always been a center of business and investment and so foreigners have come here to do business. The first foreigners who came to Panama were the Germans and the Swiss. The Americans came later. Many last names in Boquete are recognizable as German and Swiss last names.
(Native Indian girls, Boquete, Panama, pictured.)
Posted July 06, 2017