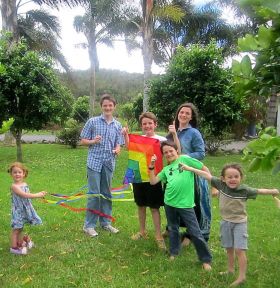 Boquete enjoys a thriving community of expats from the United States, Canada, Europe, Russia, China, and other countries here in Central and South America, and of course, Panamanians. The Panamanians have embraced that whole idea of foreigners coming in to Boquete and living amongst them.
Both sides of the equation have learned a lot from each other. Panamanians are learning a lot from the Americans as far as work ethics is concerned, like the different ways of building, just as we as Americans are learning different things from Panamanians like in construction. An example to this is a gorgeous spiral staircase that I've never seen in the United States.
The woodworking in Panama is several levels superior to that in the United States. Sole proprietors working with their hands build quality things out of wood that you just can't see duplicated any more in the United States. It's a true saying here that people work to live instead of live to work, and I've seen the good things about that kind of philosophy.
The Panamanians work as a means to an end so that they can enjoy their life, and they understand how to enjoy their life. Panamanians embrace family. They embrace the quiet time walking down the street with their husband or their wife, in a way that I think Americans have lost.
(The Gilbert family enjoying the windy season near Boquete, Panama, pictured.)
Posted February 09, 2017