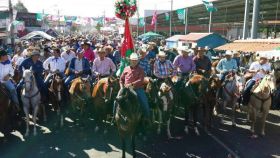 The culture of Boquete is an interesting question because culture can be defined in many different ways.
The culture of Panamanians living in Boquete is different than the indigenous Panamanians living in Boquete, which is also different from the expats who have moved and have established themselves in Boquete.
Indigenous culture tends to be tighter. There are a number of migrant workers who come in and pick coffee beans from December to March, during the coffee picking season. A number of them may come down from their Comarcas (indigenous areas set aside for indigenous people), to pick coffee with their families and kids. They are typically not as educated and don't hold down regular jobs very often.
In contrast, some of the typical Panamanians living here may be college educated, while some of them might be high school educated. Overall the educational system in Panama is pretty good. So culturally, I would say that the government of Panama is striving to do increasingly better as far as education, teaching skills, etc. They are very proud of their heritage and there are a lot of festivals, especially the Independence Day celebration. There are two of them in November. One of them celebrates the independence from Spain and the other one celebrates independence from Colombia. Mother's Day is a big, big day here. Mothers are held in really high esteem here, culturally.
About this time every year they have the fair in David (the closest larger town to Boquete, about half an hour away by car) where they have around 3,000 to 4,000 horses on display that they ride. We also have a fair in Boquete. They coffee and flower festival typically in the middle of January for 10 days.
The locals in Boquete love their music, they love to dance, and they love their alcohol. Music blares at the top of the charts, as far up as they can turn it up during the holidays. There's Carnival and then also Semana Santa (Easter). There are lots of celebrations. I think Panamanians work to live rather than live to work. And family is very, very important. They will have all kinds of gatherings and celebrations. They're living in the moment unlike a lot of us who have lived, for decades like myself in the US where people keep planning for the future and keep wanting to have a better life, and keep wanting to do financially better. Panamanians tend to only work and earn in order to just have enough so that they can spend time with their family and friends.
Most of the expats I have encountered are in Boquete because it's a lot cheaper to live here, it has a much better climate than where they're from, and, especially for the US expats, they don't want to be put in the situation where they feel like the government is imposing on them, digging into their financial business and is becoming more restrictive over the years. Their political views can range from far to the right or far to the left. A lot of people have come here because they really did not like the way the US is going. Canadians are disproportionately represented here in Boquete. A number of them live here in the cold months and they go home in the warmer months and there are a number of them that live here all year round. The reason most Canadians live in Boquete is because it's so cold in most parts of Canada and it's really cheaper to live here.
(Horses and riders on parade, David, Panama, pictured.)
Posted March 25, 2016