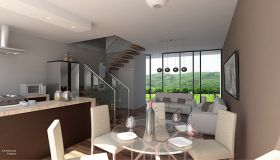 Because of criminal activity, security has become a major consideration for residents of Boquete. While home burglaries have diminished somewhat, the most recent concern is violent home invasion robberies during which one resident was killed and several others gravely injured. The suspected perpetrators of these incidents are gang members from David, who have easier ingress and egress because of the new four-lane highway. This view is supported by the fact there is a higher incidence of crime south of town, where the highway provides a quick trip back to David before the authorities are alerted.
I know no one who goes about his daily business here in fear of his life. But there is no question that there is profound concern. There is a high level of awareness, though, and most residents are proactively moving to protect themselves. There are many more barred windows, security cameras, and alarm systems than there were when we moved here nine years ago. There is a local anti-crime organization and a "hotline" with a bilingual responder who can contact the pertinent authorities quickly.
Those most at risk are those who live in unsecured homes and apartments (much rental property here lacks basic security measures) and/or people who live remotely. Most of the home invasions have taken place in rural, lightly populated areas.
In day-to-day living, however, people move about freely, without fear, within the Boquete community.
(Home in Boquete, Panama, pictured.)
Posted January 08, 2016