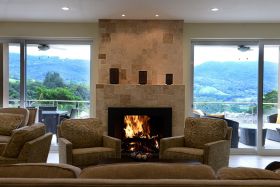 The crime rate in Boquete is very low. So far in 2017, there is only one murder case. Boquete is a very secure place and foreigners can walk into town without fear of their purses being grabbed from them.
However, for Panama in general, some locals may be dishonest. Someone who leaves their bag or any valuable item unattended may not find these items when he returns. You have to be very careful with your personal belongings.
Crimes of opportunity weren't prevalent in the past, but when foreign visitors started moving to Panama, opportunities to commit crime such as theft increased. Panama locals know that expats and gringos come with money because they rent or buy big houses. The wealth that expats bring tempts locals to commit theft, although theft is not something that happens all the time.
When I was a kid, we didn't have fences around our house. A few years ago, my dad's car got robbed and the thieves took the car radio. This is when we decided to put up fences around our house. It is advisable to have fences around your house and to keep doors and windows locked.
Expats who go out at night in Panama City may be robbed while walking on the street or their houses may be broken in while they're away. However, in Boquete, it is safe to go out at night.
As a young woman in Boquete, I am not afraid to walk on the streets during the day, but I am afraid to go out alone at night because some areas are dark. At night, I prefer to go out with someone or use my car. I have never been robbed while waking in Boquete, nor have my relatives and friends.
My mom is a nurse in a public medical center in Boquete. She and her colleagues would always keep their purses locked securely in their desks. There was one time when my mom left her purse and mobile phone on her desk while she went out of the office for a quick period and her purse and phone were gone when she returned.
Thieves take the opportunity to grab items left out in the open or take advantage of people who are slow or not aware of what they are doing.
(Condo in the Chiriqui highlands, Alto Boquete Condominiums, Boquete, Panama, pictured.)
Posted July 03, 2017