I've had many people from North America ask "Is Panama safe?" or "Is Boquete safe?" I always chuckle and say yes, it's safe.
Naturally petty theft occurs and occasionally worse crime happens, but it's a safe place. Honestly it's not as safe as Montana (my other home), but neither is well, pretty much any place else in the States, I guess.
Like any place that has large gaps in wealth, sometimes really poor people will take from the relatively wealthy. I had a hammock stolen off of my porch once in Panama; oh well, 10 bucks. I'm a fairly young guy and in decent shape, and certainly much taller than a Panamanian on average, but honestly I still don't wander around dark streets at night - just because I don't want to tempt anyone who is destitute, and maybe drunk!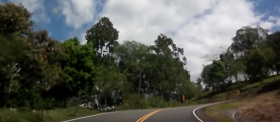 (The video is "The Road from Boquete to Volcan, Chiriqui Province, Panama.")
Posted January 15, 2018