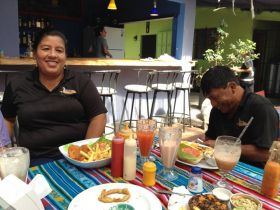 The cost for a housekeeper or a maid in Boquete depends. If you employ them
as part of a hotel like we do, you have to pay more, but if you're just looking for a maid who works about 48 hours a week, 6 days a week, it would cost you around US $250 to $275 per month. If you're part of a hotel it would be more like $430 per month.
The reason it costs more for the hotel to hire the maid or housekeeper is on account of the regulations. The housekeeper at a hotel is responsible for cleaning more areas and it's assumed that you are spending more time on different areas of the hotel and keeping up to a higher standard than you would if you are a housekeeper at somebody's house.
If you just wanted someone to clean perhaps once a week, you would pay more or less $20 a day for an 8-hour day.
If you hire somebody and the job you provide is their sole income source then you have to have a contract and pay them Social Security as well.
(S
taff at Casa de M
ontana
celebrating the inn's second anniversary, Boquete, Panama, pictured.)
Posted March 16, 2016