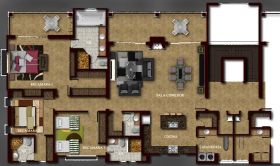 A permanent or full time housekeeper or maid in Boquete is paid the minimum salary in Panama, which is US $400 to $450 per month, including payroll taxes and social insurance benefits. The maid may be living with the employer or employed full time and comes to work every day for a total 40 hours per week.
The minimum salary in Panama is established per zone. Boquete is in Zone 2 and the minimum salary in this zone is higher, for example, than the zone for Bocas del Toro. Cleaning service personnel in Panama are paid lower than in the United States, where cleaning service personnel are paid well.
A maid can also be hired on a per week basis and payment will depend on what was agreed upon with the employer even if this is below the minimum salary in Panama. With such arrangements, the risk for the employer is that whenever there are disagreements between the maid and employer, the maid can file a report to Panama's Ministry of Work and lie about not being paid her salary and social insurance benefits. It is always better to pay legal rates for services so that future problems can be avoided.
If hiring part-time maids in Panama to work on a daily or weekly basis, it is best for the employer to have an invoice to keep track of salary payments and to issue receipts of payment.
The daily rate for maids in Panama is $15 to $25. This rate depends on the size of the area the maid needs to clean and how many hours per day she will work. It is not necessary to pay payroll taxes and social insurance benefits for part-time maids.
Expats hiring full time maids in Panama must pay payroll taxes and social insurance benefits.
(Floor plan for a model home at Boqueta Alta Condominiums, Boquete, Panama, pictured.)
Posted June 30, 2017