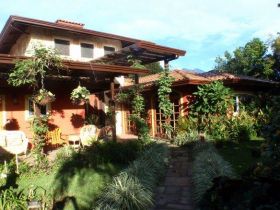 The overall cost of living in Boquete depends on what kind of house that you live in. When I first moved here I paid $600 a month for rent for a little 2-bedroom, 2-bathroom house. That was all-inclusive; furnished, all utilities included, but it was only about 1,200 square feet. There are other people who live in a gated community in a 5,000 square foot house and their cost is going to be more.
After talking with hundreds of people who live there, I would say that, including rent, the average person spends about $2,000 a month if they do not live in a gated community. If they live in a real fancy house, it's got to be a lot more.
Personally, I purchased the rental property so, without a mortgage, my actual cost now is closer to $1,000 to $1,200 a month. That's for groceries, eating out a lot, health insurance, car insurance, setting money aside to put new tires on my car once in a while, cellphone, electricity, internet, everything.
The cost of living in Dallas, Texas, where I'm from, is more than double the cost of living in Boquete.
In Boquete, I don't even have any property taxes at all on the house I purchased and I won't for another 13 years, but I paid about $4,500 a year in property taxes for my house in Texas. This is not to mention the $400 electric bill that I had in Texas because it was so hot you had to have your air conditioning running. My electric bill here in Boquete runs about $22 to $25 a month.
So the savings are really big in some areas when you live in a place where you don't have to spend a lot on heating and air conditioning and you pay zero in property taxes. My water bill in Panama is only $60 a year and that includes trash collection. My water bill in Texas was about $60 a month, not including trash collection. All these are big differences.
(House in Boquete, Panama that a tour guest of relocation specialist Jackie Lange is house sitting, pictured.)
Posted January 01, 2016