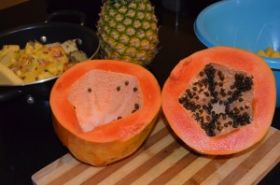 The overall cost of living in Boquete is very good because electricity and water are affordable. Due to Boquete's climate, there's no need for air conditioning and heating, and water services can cost as little as US $100 a year. Water in Boquete generally costs $12-$18 a month, while electricity costs $50-$60 a month. But that's when you take out the actual place that you're going to live from the equation, because rents vary far and wide. You can pay as little as $500 or as high as $5,000 a month for rent in Boquete.
Relative to the overall cost of living in Boquete, it's 10-15% cheaper than Central Kentucky in food and entertainment, and 25-30% cheaper in electricity.
In Boquete, you have a lot of options when it comes to restaurants and supermarkets. Some examples are the Romero and the Super Baru (name of the volcano), which is one of our local grocery store chains in Panama that's getting ready to open up here in Boquete. There's also the open market where vendors sell fruits and vegetables.
There's also a store that many people frequent in Boquete called Deli Baru, that does a very good job of catering to the expat community's taste. There are a lot of international foods available at Deli Baru. Deli Baru has done so well that they're now expanding and creating a full-sized grocery store right here in Boquete, making it more convenient for everyone who lives inside the Boquete Valley.
For a retiree couple in Boquete, the cost of living consists of approximately $200 - $400 a month for food if they eat out several times a month, around $100 for electricity, $20 or less for water, and whatever their rent costs.
When you compare and contrast the cost of living of Boquete to Frankfort, Kentucky, which is where I'm from, and you like to go out and eat, you're going to find that the choice is very favorable in Boquete. That's because there's a lot of mom and pop restaurants in Boquete that cater to an international consumer.
In Boquete, there are great Italian restaurants, little sandwich shops, pizza and family restaurants, and nice restaurants to go out on a date. There's also a food fair in Boquete that really offers something for everyone with prices that are routinely cheaper than what I would find in Central Kentucky, where Frankfort is.
In Boquete, buying prepared food costs more than if going to the farmer's type markets. Although a lot of communities throughout Central America still don't have an American-style grocery, Boquete has been blessed to have American-style grocery stores where you can find the kind of meat and seafood you like along with the boxed and branded commodities that you'd be familiar with in the US and in Canada. You'll also easily find fresh vegetables and fruits in Boquete. In fact, I haven't found any place better than here in Panama to get fresh fruits and vegetables, and many of the fruits and vegetables that I enjoy now are ones that I was never familiar with in Frankfort, so it's been a blessing in that regard. Panama is an awesome place for fresh fruits and vegetables.
If you're from Frankfort, Kentucky, you can definitely afford to live in Boquete. There are places in Boquete where you can get a burger and some fries for US $5-$7, and that already includes your soda. These prices are a very good value proposition for people when, in the US they're eating at Chili's or Apple Bee's and spending $12 - $13 for a hamburger.
(Gilbert family prepare papaya for breakfast, Volcan, near Boquete, Panama, pictured.)
Posted February 05, 2017