This is an interesting question to answer: Are taxis readily available in Bastimentos?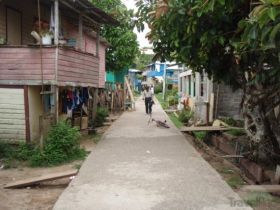 The picture to the right shows the main thoroughfare through the middle of Old Bank, the main town on Bastimentos.
A taxi would have one wheel in the dirt all the time, would be able to get from on end of town to the other in a minute or two, and would have nowhere to turn around when he got there.
One of the beauties of Bastimentos is that there are no vehicles there at all (other than private maintenance vehicles in Red Frog Beach Resort). A traffic jam in Old Bank is a kid's bike laid on the path, with a couple of dogs sleeping nearby.
But there are taxis. Around the Bocas del Toro archipelago most transport is by boat, and water taxis abound. In Bastimentos you could go to the main town dock and jump on a water taxi and have him take you to Roots Restaurant at the other end of town for a buck. Or across to Bocas for two or three dollars.
Water taxis are plentiful, cheap and fun. Just hold up a hand, and a boat will pick you up pretty quickly and take you wherever you need to go.
There is a (sort of) set price system, but this is the Caribbean, so haggle, especially if you are a family or larger group of people. It's all part of the fun, and most of the boat drivers enjoy the game too.

Taxis in Bastimentos? On the water - yes, plenty of them. On the land - not a single one. What a lifestyle.
Posted June 16, 2013