The closest airport to Bastimentos is a short water taxi ride away in Bocas del Toro.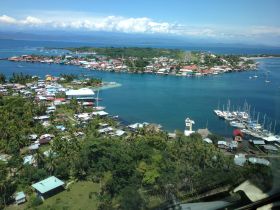 Bocas del Toro, Panama, has an airport almost right in town. Its airport code is BOC when searching for flights. The picture to the right shows the view of the approach from the cockpit. Bastimentos is a separate island, off to the left of this picture.
$3 and five minutes in a water taxi will take you from Bocas to Bastimentos.
That's the Bocas airport runway, straight ahead just beyond the roofs of the town. It's quite spectacular to watch the planes come in low over the bay, then skim the rooftops just before touchdown.

Unless you have a huge suitcase you don't even need to catch a taxi - it's only a couple of blocks to the main street in the centre of town.

If heading to Bocas del Toro, or to Bastimentos, you may find the following information helpful. I wrote it for my own website to assist visitors coming to visit my little island home:-

There are several options for getting to Bocas del Toro, depending on where you are starting your journey. Here are some basic details:-
Step 1). Fly to either Panama City, Panama, or San Jose, Costa Rica.
If heading to Bocas del Toro you have a couple of options. If flying internationally to Central America the best place to head for would be either Panama City, or San Jose in Costa Rica.

Obviously Expedia, Orbitz or Kayak, or any similar flight sites, are great starting place for flights to Panama City (airport code: PTY) or San Jose (SJO). If coming from, or through the States, it is also worth looking at flights to PTY or SJO from Los Angeles, Las Vegas, Denver and Houston and transiting through one of these places - it can often be quite a bit cheaper.

Spirit Airlines, who have only recently started to be listed on Expedia, fly direct to either place from Fort Lauderdale (Florida) (FLL), and offer some great prices. Just watch out for their strict and somewhat expensive baggage policies! It really pays to travel light with them! Try Spirit's own website too - they sometimes have some great deals.

Copa Air is also worth a look. They are actually based in Panama City, and fly to and from several US and Caribbean locations.
-------
From either Panama City or San Jose you have the choice to either fly directly to Bocas, or to catch a bus. Your final destination would be Bocas del Toro, which is both the town name and the province name. Bocas Town is actually on an island, Isla Colon, and has it's own airport. If you travel by bus your interim destination is Almirante on the mainland. From Almirante it is a $4, half-hour super-speedboat water taxi ride to Bocas town - the best value $4 spend ever - it's FAST!!

Step 2). Travel to Bocas Town
Option (i) - by air
San Jose is actually closer to Bocas than Panama City, but the flights from San Jose to Bocas are more expensive than from Panama City, presumably because you are traveling from one country to another.

From SJO to Bocas (BOC) Nature Air offer flights for around $160 each way, inclucing taxes and fees. The flights leave from a different airport to the main airport where international flights arrive. Overall I don't think this is the best option if you intend to fly into Bocas, unless you really want to see San Jose.

Panama City offers much better options for those wanting to fly to Bocas. From Panama City a flight with Air Panama will cost about $120 each way, all inclusive.
They have flights leaving from two different airports, which affords some flexibility. Tocumen (Code: PTY) is the main airport where international flights arrive. Air Panama offers a couple of flights per week to Bocas from here, so you can connect directly without having to travel across the city. At the time of writing, these flights operate on Thursdays and Sundays, but this, as with many things in Panama, could be subject to change at pretty short notice.
Alternatively, there are a couple of flights every day from Albrook (Code: PAC) Airport (also called Marcos A Gelabert International Airport), which is much closer to Panama City centre, the old city and the large bus station. A taxi ride from Tocumen International Airport to the local Albrook airport is about $30. There is a bus for a dollar or two, but it takes a while.
If you want to see some of Panama City a flight from Albrook may be a better option.
------
A couple of minor factors to consider when flying:-
If you fly out of Costa Rica, when returning home, they hit you for a $26 departure tax per person.
When leaving Panama City, the international departure tax is $20 (I think.)
Baggage allowance on the regional airlines can be less than on international flights:
Usually 50 pounds on international, but maybe only 30 pounds on local flights.
Make sure you check the airline policies beforehand if this may be an issue.
Option (ii) - by bus
The bus fare from San Jose to Bocas is cheaper than from Panama City, the journey is a bit shorter, and doesn't involve an overnight bus ride. San Jose is also a good place to visit for a day or two on the way.
Bocas del Toro Panama border Costa Rica Sixaola expat retire gringo – Best Places In The World To Retire – International Living
The border crossing at Sixaola, from Costa Rica to Panama is chaotically entertaining, and the bridge is amazing. Seeing the buses, and huge truck cross it is quite an eye-opener. It is one of the most interesting border crossings I have ever experienced.
(UPDATE: there is now a new bridge besides this rickety old one, and buses, trucks and cars now use that. All others still walk across this rusting old relic.)
Via bus, allow about 6 hours from San Jose to Sixaola on the Costa Rican side of the border. It isn't too far from there to Almirante in Panama, where you catch the ferry to Bocas. However there can be some extra comedy time involved at the border - be polite and patient. This journey costs $14, or did last time I traveled this route.
However, this journey is not without it's challenges. It can be done in a day, but there is a risk of being stranded in Almirante, having missed the last ferry to Bocas. Almirante is a bit of a miserable place, and a night here would not be too appealing.
The bus leaves San Jose at 9 AM from outside to front of Hotel Cocori, which is a five minute walk from the city centre. It got us to Changuinola in time to catch the local bus to Almirante, then walk to the ferry docks just in time for the last ferry to Bocas. This was cutting it a little fine, but there is the option to get the $10 shared taxi from the border direct to Almirante if time is running out. This route was by far the best, easiest and cheapest option I have tried so far.
Here is my #1 tip for this journey - sit near the front of the bus, be the first off and in line for the border crossings, then catch a taxi once in Panama to seriously speed this journey up. It'll cost between $8 and $10 more, but you won't have to wait an hour or more for the rest of the passengers to deal with the time-consuming border formalities.
From Panama City there is a 10 hour overnight bus to Almirante, which costs about $27. It leaves from the Albrook Mall bus station, right by Albrook Airport, at 8 PM. Book a ticket earlier in the day, as this bus can be fully booked during busy holiday season times. In Almirante the next morning you then catch the same $4 water taxi to Bocas town.

Another possibility is to bus from either San Jose or from Panama City to David, and then catch another bus from there to Almirante. This would also allow a short side trip Boquete, which is a beautiful little place up in the mountains to the north of David, and it is well-worth the extra effort involved to get there.

A couple of further points to note:
Both Panama and Costa Rica can be a little strict about onward travel plans. At the border they may ask to see proof of transportation booked out of the country, even if you are planning to stay for the full three months your visa allows. On our journey down from San Jose to David in Panama a couple of fellow travelers had to buy return bus tickets at the border, for a further $15 each. They then managed to sell them back to the bus driver at half price! What a con! Welcome to Central America!
A print out of any flights you have booked should solve this problem. In my experience Panama has appeared to be somewhat stricter than Costa Rica on this, but I imagine it just depends to some extent on the mood of the border guard at the time!
The currency used in Panama is the US dollar, which makes everything very simple. Costa Rica uses Colones, so you have to factor in using another currency if you come through San Jose.

Things change all the time in Central America, prices fluctuate, and timetables get altered with very little notice. I have found that much of the info on the internet is old and out of date. For example, you may find details of ferries from Changuinola to Bocas. These no longer operate, as a big storm a year or two caused the channel cut through the jungle to the town to close.

I have tried to be as accurate and up to date as possible, and apologize for any errors and omissions. Things can and do change fairly regularly, but I have been as accurate and up to date as possible - June 2013.
Happy travels.
Posted June 16, 2013