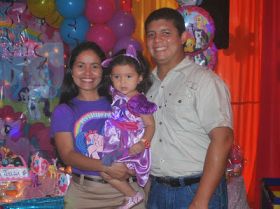 The dress code in Clayton depends on what a person does. If you work in a bank, you would wear a tie or a skirt and high heels. But if you are just walking, you would wear shorts, t-shirts, and sneakers. It does not really matter. It doesn't matter to Panamanians and it doesn't matter to non-Panamanians. You can basically wear whatever you like.
It's kind of hot in Clayton, so that's why we prefer shorts. There is no time of the year where it is cold enough to wear a jacket. It's hot year round, so jackets are out.
People can be fancy and get dressed up for special occasions, if they are going to birthdays or parties. Fancy people always dress fancy. The dress code also depends on the socio-economic status of the people. So some people dress up nicely all the time and other people don't, but if you want to dress nicely, you can.
(Attire for child's birthday in Panama, pictured.)
Posted May 16, 2015