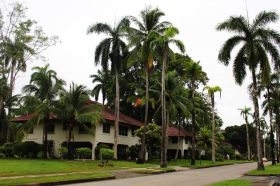 Because Clayton was a former military base, so it is more like a US suburb than the rest of Panama City. The houses in Clayton are much less densely packed than in Panama City. There is in general much less density there. It is more like an American suburb than most other places in Panama because it was designed as an American suburb between the 1930s and the 1950s.
I first got to Clayton in 1952 and my brother was born in a Clayton hospital, which was then called Building 519, and which closed a couple of years later as the military closed down and moved over to Gorgas Hospital. I grew up, for the first couple of years that I was in Panama, living in Fort Clayton.
Growing up in Clayton in the 1950s, most of the housing areas and these beautiful landscaped areas brought a lot of attention to the trees. There are lots of ornamental trees and big lawn expanses, which is really rare in the rest of Panama.
One of the interesting things about living in Clayton is that the jungle is just not very far away, and the tropical areas are really well maintained. A lot of these areas have been converted into a national park system now. When I was a kid, monkeys used to come out of the forest and I would see sloths crawling around. We had all the bird and insect life that was part of the deep tropics. Fort Clayton was a fascinating place in which to grow up as a kid.
If you go to Clayton now, you would see that the park areas of the jungle have not been cut down and instead, have been preserved. Beautiful lawns and grassy areas are wide open. There is a lot of space to engage in activities such as biking, jogging, etc. Each one of the military bases had a golf course, with Clayton as no exception, but I am not sure if Clayton's golf course is still functioning.
Clayton is a very spacious place and it is pretty laid back. There is a concentrated area where the Ciudad Del Saber is an incubator for a lot of businesses. There is a cluster of international companies that have set up shop in some of the old barracks so a lot of people who live in Clayton do not have to commute to work in Panama City. They actually work in Ciudad Del Saber.
The duplexes and the single-family homes in Clayton are built really solidly. They are basically poured concrete. This was the initial design before there was central air-conditioning. The architecture really facilitates breeze flows with the lower level an open area for parking and just to get you up the floor and make the building higher for the breezes to flow through. They were designed with a lot of tall windows for air circulation and have tall ceilings. I remember that, in my day, the walls of our bedrooms didn't go all the way to the top so the air could circulate at the top and over the walls. The houses are screened so we had good protection from the bugs and the bats.
(Pictured: Residential street in Clayton, Panama)
Posted July 13, 2015