Safety in Clayton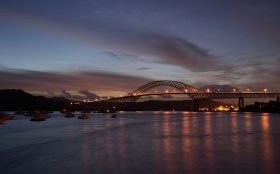 Panamá is one of the countries in Latin America that works the most against drugs, organized crimes and gangs very successfully, with advanced technology and trained
police.
It has many beautiful neighborhoods inside the city of Panamá. One of them is Clayton, a nice area with country look, at about 20 minutes from the city, with light traffic.
In the past, it has the look of military base housing, which was changed little by little into very nice single homes, and is located adjacent to Albrook, another also nice-looking neighborhood.
Between both areas is a nice relaxed area to live, surrounded by the Panamá Canal, with the "City of Knowledge", which has numerous universities and international organizations, the first lady warehouse for social work, the domestic airport of Albrook,
the United States Embassy, a hotel, a Social Security hospital (for locals) and shopping center, among other important places to visit, or facilities. It is very close by to both bridges passing the Panamá Canal, to go into the "interior" (or countryside).
As to safety, Clayton is little isolated but a safe area. There's not much traffic, but it is growing more and more as years pass by. Its close to golf courses, the beautiful natural park of Summit, and little further, the very well known resort of Gamboa. Clayton is a good place to have a less stressful family life. The cost of housing is little higher than in other neighborhoods.
(The Bridge of the Americas, pictured.)
Posted March 05, 2015