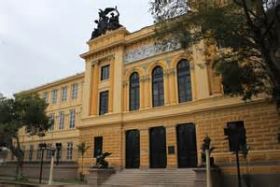 They maintain the architectural structure and the look and feel of the buildings in Casco Viejo, Panama. As for building a new home in Casco Viejo, you need to pull a permit. Every person who wants to buy any building in Casco Viejo needs to present the project that they want to develop to the
Instituto Nacional de Cultura
(Cultural Institute of Panama). They need to have the project approved before they can develop it. Once approved, the building will be inspected.
The older buildings in Casco Viejo are maintained. One of the obligations of a building's owner is to get permission from
Instituto Nacional de Cultura
and to provide all the maintenance for the site. They have to assure that the building is in good condition.
( Instituto Nacional de Cultura, Panama, pictured.)
Posted October 02, 2015