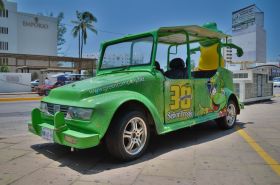 Taxi availability in Mexico depends on how far and where you want to go. For example, here in Mazatlán, if I go to the airport from my condo, it will cost roughly 400 pesos ($20) because of the traffic. If you take a taxi and just want to go to a well-known area which is around 10-15 minutes from where we are, it will cost 80-100 pesos (US $4 - $5).
Taxis and buses in Mazatlán are everywhere. Here in Mazatlán, there are different buses for different destinations. For example, if you want to go to one place, the green bus takes you there. If you want to go to a shopping mall, you need to take a different bus.
Some buses in Mazatlán charge 8 pesos ($0.40), and some charge 10 pesos ($0.55). The bus fare in Mexico is very cheap. I drive most of the time, so the last time I took a bus was three years ago. I don't take the bus because I have my own car so I drive. It's more convenient for me because I go to presentations a lot so I have a lot of stuff to carry.
If I drive from my condo to the airport, it would take me 30-45 minutes to get there depending on traffic. The cost for taxis are all based on different zones in Mazatlán. They charge per zone and don't use a meter. You can't negotiate with the airport taxi because the rates have all been set.
(Taxi with an advertisement for Senior Frog, Mazatlan, Mexico, pictured. )
Posted July 14, 2017