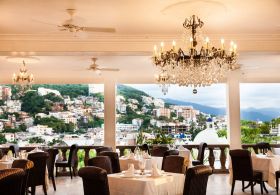 The restaurants in Puerto Vallarta are varied. Of course, we're always told not to eat at taco stands, but now we have such great taco stands. Usually, these taco stands are run by housewives who started their own businesses. Everything is fresh and there are very few problems with food poisoning or other food issues. These taco stands open in the evening and stay open until four or five in the morning.
On the other end of the spectrum of restaurants in Puerto Vallarta, you've got La Iguana, which is operated by the lady who bought and turned Elizabeth Taylor's and Richard Burton's villas into a restaurant and a little boutique hotel. You can eat dinner for four with wine and an incredible menu in La Iguana and spend under US $200, with high-quality food, incredible service, and live entertainment from mariachis. In LA, the same course meal for four would be about $800.
Then you have all the restaurants in between from casual dining to fish and chips. We have a restaurant in Puerto Vallarta called Joe Jack's Fish Shack, which is known for its fish and chips. There are a few Mexican food restaurants that serve fabulous seafood and food like enchiladas, which we think of as a Mexican dish, but it's not really all Mexican.
Pineapples, papayas, and mangoes are grown within 50 miles of Puerto Vallarta. You see pick-ups with fruits coming in and you can buy pineapples, strawberries, watermelons, and other fruits off the truck if you wish.
There are also several European restaurants in Puerto Vallarta. They're usually very small and would have under 50 tables. There are three Austrian men who came to Puerto Vallarta 20 years ago and opened up three different restaurants that have now been here for years. One serves Austrian-type food; the other serves German food; and, the last one has a Northern Italian menu.
When you talk about average restaurant spending, for example in The Swedes Bar & Bistro that's right next to my office, you can have dinner for $15 a piece, including wine. Comparing this to LA prices, the same package would probably cost $100 apiece. If you went to Los Angeles and had a steak, a side of asparagus, and a side of macaroni and cheese, you would spend for $400 to $500 for four. If you had the same thing at La Vaca Argentina in Puerto Vallarta, you'll spend $100 for four.
(The Iguana Restaurant & Tequila Bar, Puerto Vallarta ,Mexico, pictured.)
Posted June 08, 2017