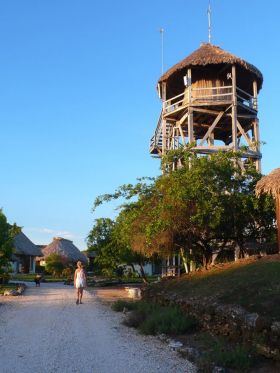 The price for a vacation rental in Corozal is about $100 a night, maybe a little more. In Corozal Town, vacation rentals are probably cheaper than out in the more rural area because there is one hotel that's not so bad, and there are several others that may be okay inside but are not good.
Vacation rental prices in Corozal depend on the time of year. There are three seasons in a year: the peak season, which runs from Christmas through New Year; the high season, which runs from the beginning of January to the beginning of June; and the low season which runs from the first of June through the end of November.
My rates have variations. A basic queen room would cost $80 in the low season, $100 in the high season, and $120 in the peak season. The variation isn't that much, but over many days it can be quite considerable, and I will always entertain lower rates for longer stays. I publish that I may give you six nights for seven. Month-long stays can be quite a bit cheaper. If you're a returning customer, there may be some additional considerations for your second or third time staying with us.
I've had some people come for a dozen times already, just in the period I've been here. It's all according to their schedules and what they want to do. Everything is negotiable- those are the base rates.
(The water tower and guest houses at Crimson Orchid Inn, near Corozal, Belize, pictured.)
Posted July 09, 2017