If you live in the Casco Viejo area of Panama City and want to go shopping, it is best to go to the mall. Shopping in Casco Viejo tends to be very expensive. I cannot recommend any clothing store in Casco Viejo. If you want to go shopping for clothes and you like high-end brands, you can go to the posh mall in Panama City, which is Multiplaza (10 minutes away from Casco Viejo by car). If you are getting off the boat with empty suitcases and you want to go shopping, like most South Americans do, you can go to Albrook Mall (15 minutes away from Casco by car).
I routinely have groups coming in from the Cayman Islands and other South American countries that we have to factor in a solid four hours for the Albrook Mall. Albrook Mall has the best prices, which are actually similar to North America. I always tell people that Panama is not really a shopping destination if you are coming from North America, because we have the same prices, but if you are coming from South America, well then, you can bring an empty suitcase and enjoy shopping here.
Panama has just tripled in price under the last regime. Right now, the price of clothing here is the same as the price of clothes in the US. If you are coming from the Cayman Islands or any place similar to that where you do not have any mall like most places in North America do, then you can enjoy shopping in Panama. If you are coming from Canada or the US, you would be disappointed in the prices, because they would probably be even higher than what they are at home.
You can go to Colon, where the Free Trade Zone (pictured here) is the second largest Duty Free Zone in the world. It is one of the largest distribution and logistics centers of the world. The largest Duty Free Zone is in Hong Kong and it is really cheap; anybody can go shopping. Here in Panama, the Free Trade Zone is set up for people from South America to come here to shop. They sell goods to Colombians and Brazilians. Taxes are so high in Bra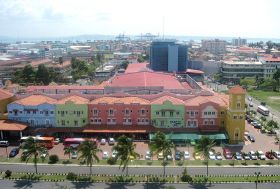 zil.
Products in the Free Zone are, however, cheap if you buy in bulk, or if you are buying for a business.
For example, if you are buying one million tee shirts and you go to the Free Trade Zone, you will get a good deal. If you are buying one TV for yourself, it may not be worth it because you will realize that you have to pay US $10 of tolls each way, plus the amount you spend on gas and the travel time, and you will only save around $20 on the TV. It actually turns out that you spent more to go to the Free Zone than if you bought your TV at a regular retail outlet.
The prices in the Free Zone on the shelves are set high. For example, I bought a blender in Panama City that costs me more to buy in the Duty Free Zone but less than in the US. So the Panama Duty Free Zone is really geared for people to buy in bulk because then they can take the price down compared to what it would be in Panama City, which would still be more expensive than the price in the US.
Posted October 16, 2014