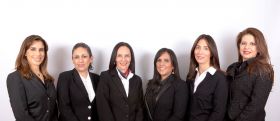 Women and girls are well-treated in San Miguel de Allende and there is no reason for them to be treated badly. Mexico is pretty much the same as the US; there is no difference whatsoever.
I have lived in France, Australia, on the East Coast and the West Coast in the US. I lived on the West Coast for almost 10 years and I see no difference in how women and girls are treated in Mexico and in Monterrey, where I used to live.
The difference would depend on the family. There are women who get beaten in the States, just as there are women who get beaten anywhere in the world. It is just a matter of social level, education and how you allow yourself to be treated as a woman. Here in Mexico, there are opportunities for women in business, politics, and everything else, just like there is in the US.
(The realtors at Colonial Real Estate, San Miguel de Allende, Mexico, pictured.)
Posted January 14, 2017