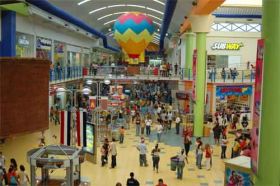 Right now, there are a couple of boutique stores in Casco Viejo and hopefully, soon they will open a boutique supermarket and a well-known drugstore.
The drugstores here are like the ones in the US. They do not just sell medicines but they also have treats and other things. Little by little, as Casco Viejo grows, we will see even more developments but in the meantime, if you want to go shopping, you have to go to Panama City, which is only around 15 minutes away from Casco Viejo.

The shops in Multiplaza in Panama City range from high end to very high end. We have Bulgari, Louis Vuitton, Chanel, and all those other deluxe brands. You will also see other shops that are not as high end as those that I have mentioned. If you want some mid-range shopping, you can go to Albrook Mall (photo above), which is around 20 minutes away from Casco Viejo. It takes 20 minutes because when the city wants to alleviate the traffic congestion, they make some streets one-way. So Albrook Mall is not really that far; you just have to take a circuitous route to get there. You can also take the subway and it will take you just around 3 or 4 minutes to get to Albrook.
Posted October 08, 2014