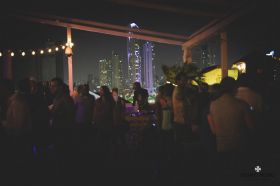 There are a lot of options for food in Casco Viejo. If you want a casual dinner or lunch, you can find places where they serve Panamanian food. You can also find fusion and international food. You can find Peruvian food here.
We also have several steak houses such as Grapes Restaurant. Grapes is my favorite restaurant in Casco Viejo because they serve great steaks, risotto, arepas, which is a Venezuelan dish, and they also serve other international foods. They also serve Salmon tartare and lamb chops. Grapes has a big menu you of international dishes. If you are into kosher food, they also offer that, so you will definitely enjoy eating there. Their dishes range from US $15 to $25. I definitely recommend Grapes Restaurant.
Pips is another good restaurant in Casco Viejo and it is one of those less expensive restaurants in the area that I have been to. For lunch, I recommend Tantalo and they have a nice roof bar, too. A meal in Tantalo costs about $7.50.
We also have street food in Casco Viejo, although they are not sold in food carts but they are very cheap. They sell food in small stores and the food is in small disposable food containers similar to a Tupperware. Rice with chicken or pork, lentils, and fried plantains cost around $4 there.
(Tantalo rooftop bar, Casco Viejo, Panama, pictured.)
Posted February 05, 2016