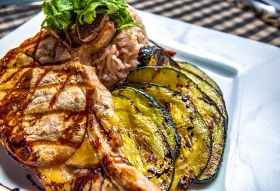 In general, shopping in Belize is more fun than shopping in the First World. It can be a little annoying sometimes because there may be times when you go back to a store where you found a certain product last week, and you go there again this week but they've run out of it.
The "Chinos" (Chinese Stores) here in Corozal don't have the concept of reordering at the right time to always maintain their stock. In that case, you have to find another store that may offer the product that you're looking to buy. Then that store runs out, so you have to find a third store.
Things get a little crazy like that here in Corozal, but once you're used to it, you'll think to yourself, "Oh well. Move on and we'll find what you want elsewhere."
Shopping in Corozal is a great deal of fun. Nowadays, my wife oversees the food and the cleanliness of the bed and breakfast, and I get sent off to Corozal Town to do the shopping, which I tend to do very efficiently because I know pretty much where I can find anything that's on the list. If it's not on the list, it doesn't get bought.
(Dinner at Crimson Orchid Inn, Corozal, Belize, pictured.)
Posted March 22, 2017