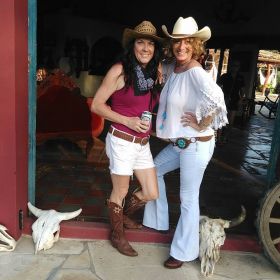 The local males in Nicaragua like to catcall women, not just foreigners, but even the local women. They have a Machismo culture In Nicaragua.
I have a single woman friend who's been living in San Juan Del Sur for seven or eight years now. She's an attractive female and has long hair and fair skin. When she walks from her home to her local favorite happy hour spot or when she runs on the beach, she always wears a hat with her hair up because she feels that her hair draws a lot of attention to her. When she wears her hair up, there is less catcalling by the men.
However, I would say she feels safe walking to and from her apartment that's in the center of San Juan Del Sur. She doesn't walk home alone super late at night, but in the evening before 10 or 11 o'clock, she feels safe doing so.
Finding opportunities to meet men here in San Juan Del Sur is a bit of a challenge. There are many foreign women who move here and meet local men, as well as men who move here and meet local women and engage in a relationship. At times there can be a bit of strain in the relationship because of the cultural differences and what the expectations are.
Sometimes there may be a lack of respect from local men to the women. Their idea of what's acceptable and how to treat a woman isn't necessarily the same as the treatment from a man from Canada or the United States expectation-wise. On the other hand, I know mixed couples who are happily married and have been for many years. I guess it just depends on the person.
It would be difficult for single gringo women to meet a single gringo guy here in San Juan Del Sur because the town is so small, though there are many males traveling through San Juan Del Sur and there are some single males living here as well. Just like if you were in any small town in Canada or the United States, the pool of available men is a bit less than it would be if you were in a larger area.
One of the challenges is the fact that San Juan Del Sur is a very transient place. There may be men coming here to live, but it may be for a short period of time or they may just be passing through.
It's not really important to my single female foreigner friend to find a man here in San Juan Del Sur and it is not her main priority. Her priority is to live a good life and do the things she enjoys. If that right person came along at the right time, then she would certainly be open to a relationship, but it's not her goal to find a husband in San Juan Del Sur.
(Rancho themed Christmas party, San Juan del Sur, Nicaragua, pictured.)
Posted July 27, 2017