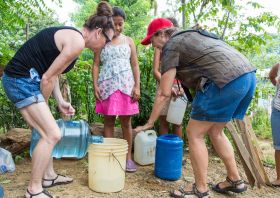 Nicaragua has a very machismo culture about it towards women. It's not uncommon if I'm alone, either driving in my truck or walking somewhere on the street, for a young local male to whistle; to tell me they love me; to say, "Hey, baby!"; or blow kisses at me. That's not uncommon at all.
The thing is they don't only do it to foreigners, but they also do it to local Nicaraguan women. It's not just because I'm a foreigner that I'm treated that way. This is just the machismo culture.
For me, it happens rarely or on occasion. I just accept that this is the way it is. It doesn't make me feel good, but it also doesn't make me angry or upset. I have some female friends who are very bothered by the actions of local males here in Nicaragua though.
I don't feel threatened. The local males never make me feel unsafe. I don't feel like a local male would come and approach me. I think they're really too shy to do that. The males here will make eye contact with you and they won't break that eye contact if you don't. That makes me feel slightly uncomfortable, but not enough to really bother me or affect my day-to-day.
Doing business as a woman in Nicaragua, there have been times when Gordon, my husband, has been out of town and I needed to take our truck to the mechanic. I feel respected by Carlos, our mechanic, even though I'm a woman. He treats me with the utmost respect and speaks to me just the way he would if he were speaking to Gordon about a problem with the truck.
We work with another gentleman who provides transportation for all of our clients going back and forth to the airport and we have an amazing relationship with him. I know he totally respects me as a woman running a business.
(Elisha MacCay getting potable water to others in need after Hurricane Nate in Nicaragua, pictured. )
Posted October 17, 2017