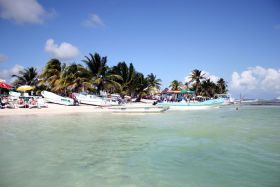 There aren't American-trained doctors In Corozal Town. In the outlying districts of Corozal, however, there is a volunteer American-trained doctor who comes in once a month and visits the clinics in Sarteneja. He has a home right next to the Crimson Orchid Inn.
This volunteer doctor is building a brand new clinic in Chunox, and will be opening another one within Orchid Bay sometime in the future, probably when he gets to move down here on a more permanent basis. This doctor is the head of emergency medicine in a teaching hospital in the Carolinas and has a license to allow interns to work here at Orchid Bay and give services to the surrounding communities as necessary.
The doctor knows anything about everything and can prepare and stabilize patients for transport either to Corozal, down to Orange Walk, or to Belize City. They can also fly you out of the country or run you across the bay into Chetumal. If you need immediate medical attention, you can get out of Corozal easily. Corozal has open areas where we can land helicopters as well if necessary. We are quite advanced here in Corozal.
(Sarteneja, Belize, pictured.)
Posted April 09, 2017