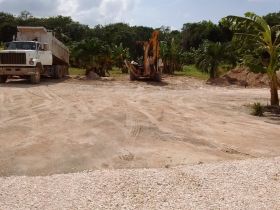 There have been a couple of incidents of crime recently in Corozal that put a lot of people off. There is some petty theft, but there's always going to be petty theft anywhere you go.
What I see in the area is Belizean on Belizean crime. Generally, it is two Belizeans getting in an argument, particularly when alcohol is involved. One of them pulls out a machete and whacks the other guy with it or they come to blows.
As far as violent crime, it's almost non-existent in the Corozal district. Any violent crime against expats, regardless where they're from, is very low.
My recommendation is to not isolate yourself from the community, but to integrate and get to know people. Belizeans are very friendly in general. They want to help and love the fact that expats are there investing money and giving people jobs.
Corozal is not a huge tourist area so there aren't a lot of opportunities to earn income. What you have are residents of the area, as opposed to tourists. The more development that goes on when gringos build houses, improve property, and do these sorts of things, then there are more jobs for the local Belizeans. Even if you hire a US contractor, all his labor is going to be Belizean labor. This is a nice economic benefit for the locals that they're happy about.
Once you get to know people, they begin to want to help you and look out for you. If you ask the locals, "What would you do in this situation?" They're going to tell you what they would do. It may not be exactly what you would do if you were in the US, Canada, or wherever you might have come from. However, if you're getting along in the Belizean lifestyle, then you need to listen to what the locals have to tell you and take that into consideration when you make a decision; whether it's somebody they recommended as a mechanic or someone who knows how to do electrical work.
You can also ask other expats. In many cases, we have learned our lessons the hard way and want to help our fellows who come down to Corozal by smoothing the way a little bit.
I'm much more concerned about crime in Dallas, Texas than here in Corozal, Belize. It doesn't seem to matter where you live or how nice the area is. There's going to be crime, whether it's somebody breaking into your car or breaking into your house. We are armed in Dallas, Texas and there's a reason for that. It's not legal to be armed everywhere, but in Texas it is. We do have firearms and keep them in the house for personal protection.
We do not have any weapons in Belize. If ever we do, it will be for sporting purposes. We don't ever feel threatened and even leave our houses unlocked a lot of the time. We've got great neighbors who look out for things. We also own a pack of dogs that are well taken care of and they run all over the property. Between the dogs, the neighbors, and just the fact that we're integrated into the local community, we don't feel like crime is a threat to us here in Corozal.
(Prepping the land for Ed Parrish's new home, Corozal, Belize,pictured. )
Posted September 15, 2017