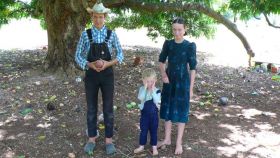 Food costs in Corozal are all fairly low, excluding products that have been brought in from non- CARICOM (trading block that includes Belize) countries. For instance, there is an Indian shop here in Corozal I frequent that has a lot of American products. I need to go there sometimes whenever I'm searching for a certain product that I haven't been able to find locally, or find a similar locally made product at a lower price. These products are generally 15% more expensive here in Corozal than if I bought them in the States.
There are many "Chinos" (Chinese stores) throughout Corozal that will offer you everything, soup to nuts. The quality of some of the items in these Chinos is not as good as you may want, but you have the option to go to the Indian store in Corozal instead.
I love going to the butcher. In Corozal, Frank's is my choice of butcher. Frank's has everything that you can imagine. The meats in Belize are cut up differently, so when you order, you have to tell them how you want your meat cut to make sure that it meets your needs. Otherwise, they'll have some pre-packaged stuff which you can also buy.
Bacon in Belize is to die for. It may be because the way the pork is raised makes it end up being extremely flavorful and tender. Sometimes it may have a little more fat than I would normally like, but the flavor always comes through.
Chicken products in Belize are exceptional. Poultry in Belize aren't intensely farmed in the way they are up in those big factory farms in the United States. The Mennonites raise the chickens in Belize, and they do a great job with it.
It's strange how when you go to the butcher, they also have a phenomenal stock of fish and shrimp. It doesn't make any sense, but you'll get to understand why that is after you've been to other stores where you'll see for example a store that sells auto parts along with fresh orange juice.
It's counter-intuitive to go to the auto parts store to buy your orange juice, but it works. It's incredible. You can go to the hardware store and if it's Chinese, they will have much more than hardware. You go in the Chinos and think of anything wild and wacky, and they probably sell it. It might take the Chinese people a little while to climb over all of the goods they've got stacked up in there, but there are generally two or three people working in the store who know exactly where what you want is located. They're very good about climbing over the big piles and finding what you're looking for. You just go in and say, "I want (this)."
(
Mennonite children, Corozal, Belize, pictured.)
Posted March 16, 2017