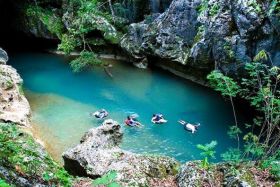 I took a person around there today who is staying at the inn. He'd been here a couple of years ago, and he made the observation that the town is a lot neater today than it was two years ago, and it seemed to be more prosperous. He also noticed that there are a lot more and newer cars here in Corozal now, so that would indicate that there is more money in people's pockets. With that in mind, I would say Corozal's economy is getting better and better. I wouldn't describe it as booming, but it's certainly not sliding. It's moving ahead slowly but surely.
There is considerable tourism outside of Corozal Town. Here at Orchid Bay, we have many products available, and people choose to come here for a week, two weeks, or a month. Even snowbirds come down in winters for two to three months.
The majority of hardcore tourists, which refers to those who just have 1-2 weeks off, would go to Ambergris Caye for the bright lights, the loud music, and the toys. You're going to spend a fortune if you go to Ambergris Caye.
People who think about what they're doing choose Corozal because it is way less expensive than Ambergris Caye, and yet they can get to all of the places that make vacationing a true vacation. You can run inland to the Mayan Ruins at Lamanai, head down to Belize City for a day, or run out to the Xunantunich to go rafting or tubing to the caves.
You can even get down south from Corozal very easily just by taking the main highways. We're about five hours from Placencia, which is very doable on any day of the year. We find that the more discerning people will choose to stay a week in Placencia, a day in Ambergris, and a week in Corozal. If money's no object and you're only here for a short time, then by all means spend your whole time on Ambergris Caye.
(Tubing, Belize, pictured.)
Posted July 25, 2017